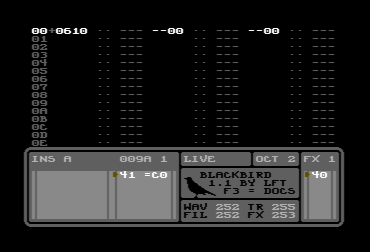 Blackbird
Blackbird is a modern music editor for the Commodore 64. It was released at Datastorm 2017 (outside of the compos). The software has been designed to work well both on real hardware and in emulators, and it comes with a comprehensive User's Guide.
For some time, I've been making my C64 music using hacked-together cross-platform tools. Here the various features of those tools have been brought together into a polished native tracker. Thus, the included example songs were not made in Blackbird, but each was made in a conceptually similar tracker, and then converted into the new format.
Download
Note: The User's Guide is also included in the zip-file.
Here are the CSDb pages for Blackbird 1.0, Blackbird 1.1 and Blackbird 1.2.
Posted Wednesday 15-Mar-2017 07:09
Discuss this page
Jag tar inget ansvar för det som skrivs i forumet, förutom mina egna inlägg. Vänligen rapportera alla inlägg som bryter mot reglerna, så ska jag se vad jag kan göra. Som regelbrott räknas till exempel förolämpningar, förtal, spam och olagligt material. Mata inte trålarna.
Anonymous
Thu 10-Aug-2017 17:41
hey, im a C64 Fan/User since back in the days 1987. Always loved demos and rob hubbard´s music more than gaming. I always wanted to make my own music on the C64 but never could work out how DMC and co worked. I hope i get this one running a few sids of mine sooner or later. I def. like the design and love crows. Rar Rar rar ;) the sound from my trees outside ;) Got the feeling you like them too ;) so also your music is quite jazzy and complex so i guess youve packed that "all YOU (LFT) need" to do your stuff into blackbird. I wonder why there is no comment or vote yet on CSDB.dk but i hope there will be soon. I really hope to find some time to work it out. Anyway.. Thanks for all your efford on that PRG man.. Take care
Anonymous
Tue 7-Nov-2017 22:44
Can you be so kind and support 3SID interface too? (9channels)
Anonymous
Sat 20-Jan-2018 09:25
Hi Linus, I really like your user guide. How did you compose it - TeX? which template did you use?
lft
Linus Åkesson
Tue 23-Jan-2018 08:41
Hi Linus, I really like your user guide. How did you compose it - TeX? which template did you use?
Yes, it's pdflatex. I'm using the regular "book" class, together with packages like "berasans", "fancyhdr" and "longtable". Some lengths are tweaked (e.g. parskip, parindent), the chapter headers are custom (by overriding @makechapterhead) and the keyboard keys are generated using tikz.
Anonymous
Tue 9-Jul-2019 03:23
For some reason I can't get this to run on an actual C64, runs fine in emulators, but won't work via a SD2IEC. Any troubleshooting advice? I've tried all three versions...
OldTimeAccordion
CommonCommodorist
Fri 30-Aug-2019 09:41
Hi there! Thanks for the great software and greetings from Finland!

After making my first test tune with Blackbird (yippee!) for a tongue-in-cheek C64 game project, I'm having a bit of a trouble using the win32 build of Birdcruncher to export the bb.songfile that I've made. (Pardon in advance if this is some kinda n00b error on my behalf.)

I've tried changing the options in Birdcruncher but every time I get the same error message as a result:

Filter 4, wave 3, fx 4, total 11
Crunching track and song data...
Internal stream error, 87, voice 0

I've been unable to find any references for this from the manual, and thus I'm hoping if you could help me out. If necessary, drop me an e-mail and I can send you the bb.song file in question. All help kindly appreciated. Thanks again and keep up the good work!

Skål!
Anonymous
Wed 18-Mar-2020 03:28
Where is the file for the C64 executable?
Anonymous
Thu 25-Nov-2021 13:55
It would be good if a 4th channel could be added to allow for samples to be played.